Advertising Opportunities
Venue Overview
Morgan Park Sports Center welcomes the community to come explore all that the new facility offers the surrounding neighbors and visitors. MPSC offers a variety of sporting opportunities for people of all ages and skill levels every day for its year-round competitive and recreational ice skating, hockey and gymnastics programs, as well as special events. This is the perfect opportunity for local businesses and flagship retailers to advertise to this captive audience through a variety of promotional outlets at the venue. No matter if you are a big or small business, we can develop a promotional program that hits home with our visitors and meets any budget.
MPSC is full of activity 18 hours a day, 7 days a week! Amenities include:
Ice Skating Rink: 1,000 seat bleacher area
State-of-the-Art Gymnastics Center: Viewing Area for parents
Fitness Center
New Yoga Studio
Party Spaces for private parties & celebrations
Hospitality Area
Dining and Concession Areas
Equipment and Supplies Pro Shop
Free on-site parking lot – 75 vehicles
MPSC is a state of the art, modern ice rink and gymnastics center. MPSC promises to serve a large population on the South side of Chicago in core sports growing tremendously in popularity. It will have high visibility to local patrons which will create the perfect venue for increasing YOUR sales and enhancing YOUR business image and bottom line. Not to mention other benefits like…
Access to over 500,000 customers annually (10k+/ week)
Reinforce awareness in your community.
Demonstrate your commitment to organized youth and
adult sports and events; 15 youth hockey teams plus
youth synchronized skating and adult teams.
Associate your business with a newly revitalized indoor recreation facility.
Target both youth and adult age groups.
It's Affordable! Our rate structures will ensure a great return on your advertising dollars.
---
Sponsorship & Marketing Overview
Branding & Entitlement Rights
Fixed dasher board signs on ice rink visible to patrons, participants and spectators. Sponsor responsible for supplying finished artwork; MPSC responsible for costs associated with producing and installing banners.
Your company logo and link on the MPSC website.
Banner/signage placement in public lobby area or within ice arena.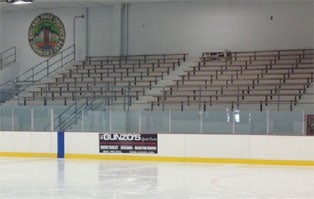 Promotional Outlets
Opportunity to have a location for distributing promotional material at the venue or include promotional material in the venue's main kiosk. Details to be mutually agreed upon.
Opportunity to develop ongoing promotional opportunities or specific event day promotions. Example: Offer a prize (i.e. gift card) to winner of certain competitions and/or to participants playing in a sanctioned event). Prize intended to build traffic and business to sponsor.
Entitlement sponsorship of annual community events taking place at the facility (Skate with Santa, Lucky Skate, Ice Show, gymnastics meets).
Advertising and Public Relations
Sponsor name included in all press releases and media notices building awareness of venue programs, events and news.
Name included in all advertising and promotional material generated by facility.
Advertisement slide to be included on electronic boards in lobby with your logo and details, photos, etc.