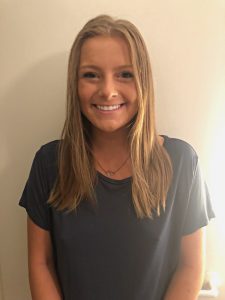 Kendall Tucker (She/Her)– Wellness Coordinator, Yoga + Fitness Coordinator
Kendall grew up playing various sports with a passion for fitness. She continued advancing her athletic abilities throughout her life and finishing her Volleyball Career in college at University of Illinois-Urbana Champaign. While playing sports, she focused on keeping her body stretched and relaxed in order to play at a high level. Her new found passion for Yoga and Fitness has grown from this self physical awareness as she completes her 200 Hour Yoga Certification. Additionally she is working to become certified in future skills within Fitness such as Step Classes, Ariel Gymnastics, and more! She loves helping her students delve deeper into the mental and physical practice of yoga, while educating them on basic life tools for their own personal well-being.
As the Morgan Park Sports Center Wellness Coordinator and class teacher, she wants to ensure that the classes and workshops here are created and designed specifically for the needs of the community for people to grow stronger and improve their lives. She hopes to create a place where this community can be brought together by the love of not just fitness, but wellness as she once did growing up around sports. She wants to maintain a space where people can slow down, take a few breaths, and work on cultivating their best self and improve their self gratification.