The Chicago Horned Frogs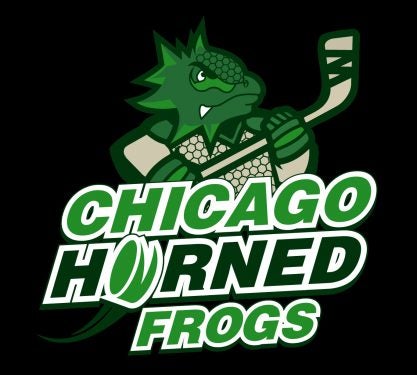 The Chicago Horned Frogs feature teams that compete in the Northwest Hockey League. Games are played throughout the Chicagoland area with clubs participating from Kankakee to Crystal Lake. The season runs from September through March with a tiering round, regular season, and playoffs. The NWHL is a Tier III (House) league and requires balanced teams and ice times. For more information regarding the hockey program please contact our Hockey Coordinator:
Scott Cook
scook@morganparksportscenter.net
(773) 945-6013
General Information & FAQ
Chicago Horned Frogs Hockey Club
The Chicago Horned Frogs program is designed to develop each player's core skill through a structured and organized hockey environment. Our overarching goal is to improve, enjoy the game, be competive within our tiered league and participate fully in our cooperative, South Side hockey community.
We are an inclusive club and welcome all players to our program. From there, our talented and throughful coaches work to ensure success and enjoyment of the team experience. In cases where players are new and not yet ready for team play, our support programs (ADM and Learn to Play) will challenge and develop the player until they are ready for team entry at the beginning of a season.
Our teams play their regular season in the Northwest Hockey League (NWHL). We additionally compete in local and out-of-state tournaments when team coaches and player family designs align to make it possible to reach for these seasonal high point, competitve and fun events.
Northwest Hockey League (NWHL)
The Northwest Hockey League is often referred to as a "House" program, which is fairly inaccurate since a NWHL player, will travel to other rinks in the Chicagoland area to compete against other clubs. The league stresses a philosophy of balanced ice time (BIT) to ensure all players are able to contribute to the team's success while gaining valuable experience at the youth level.
Highlights to the NWHL program:
Time Commitment: Players will skate 2-3 hours each week. Ice sessions consist of practices, skills sessions, and either inner-squad or league games.
Financial Commitment: The NWHL program at MPSC is one of the most affordable programs in the area. By playing at MPSC players will pay nearly 50 percent less than surrounding clubs.
Player Evaluations: The coaching staff will work together to ensure teams are picked based on parity. Players are not going through a tryout process. The evaluation process will ensure player safety.
Team Size: Team roster size is limited based on registration and skill evaluation. All players with adequate skill will be placed on a team based on "first come, first served" registration.
League Play: Teams are balanced to ensure fair competition. NWHL enforced the Balanced Ice Time (BIT), which ensures all players and goalies will receive equal ice time. NWHL prohibits teams from running up the scores with the Blowout Rule.
Tournament & Jamborees: Players will not need to travel for more than one out of town tournament. Mites will participate in jamborees.
Playing Season: Teams will play 18 league games, including 6 tiering round games (Oct – Nov) with league play beginning Dec. 1.
NWHL Championship Tournament: Teams are able to compete for the league championship after the regular season. Teams will go through another tiering round to ensure the NWHL tournament brackets are fair and balanced.